3/23/2021
​WASHINGTON (March 23, 2021) — The National Transportation Safety Board Tuesday asked the Federal Aviation Administration to enhance a series of safety requirements in regulations that allow some revenue passenger-carrying flight operations to be conducted as general aviation flights.
"The NTSB remains concerned with the inadequate safety standards the FAA allows for some revenue passenger-carrying general aviation operations," said NTSB Chairman Robert L. Sumwalt. "When someone pays for an air tour, a parachute jump flight, or an extreme aerobatic experience flight, they have the right to expect effective safety standards for such operations. Currently that is not the case, and this exposes customers to unnecessary risks."
In a public board meeting held Tuesday, the NTSB said members of the public who pay to participate in such flying experiences, are likely unaware many of these flights are not subject to the same maintenance, airworthiness, and operational requirements as other revenue flight operations.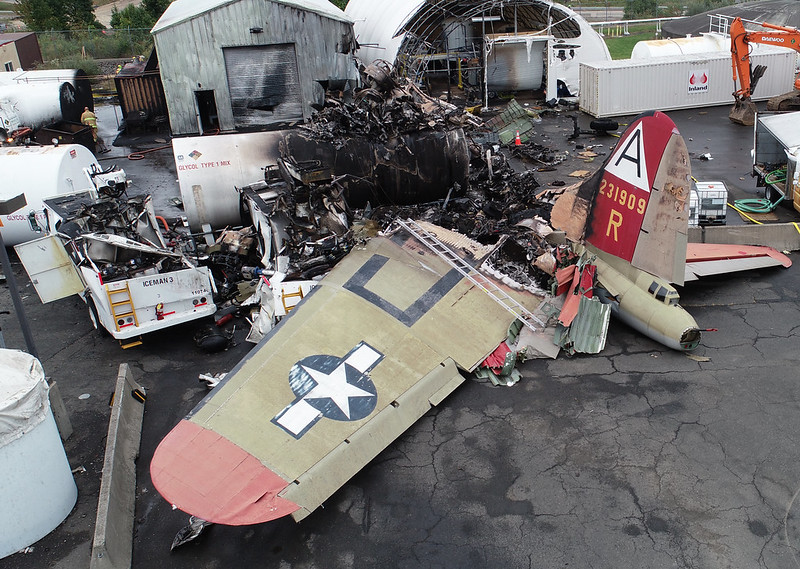 (This photo taken on October 3, 2019, is of a Boeing B-17G, which was destroyed when it impacted terrain short of runway 6 at Bradley International Airport, Windsor Locks, Connecticut. This was one of eight accidents referenced in the Enhance Safety of Revenue Passenger-Carrying Operations Conducted Under Title 14 Code of Federal Regulations Part 91 report. Photo by NTSB unmanned aerial system.)
Investigators said while operators of commuter and on-demand flights must hold certificates requiring specific operational, training, maintenance and safety standards, the FAA has made allowances for certain revenue passenger-carrying operations to be governed by general aviation regulations, known as Part 91, which have less stringent safety requirements.
The NTSB said that, for these Part 91 revenue passenger-carrying operations, there is a lack of FAA oversight, a lack of structured pilot training, deficiencies in pilot skills and decision-making, and inadequate aircraft maintenance. Among the eight accidents investigators cited as examples was the July 30, 2016, crash of a commercial hot air balloon near Lockhart, Texas, which killed the pilot and all 15 passengers. The NTSB included the pilot's pattern of poor decision-making in the probable cause of what remains the deadliest aviation accident since 2009.
Investigators also cited situations in which operators intentionally exploited regulatory loopholes to avoid the more robust oversight intended for revenue-passenger carrying operations, including those for commercial air tours. One such example was a March 11, 2018, helicopter flight over New York City operating under the exception of an aerial photography flight; the investigation had determined the intended purpose of the flight was an air tour. The helicopter lost engine power in cruise flight and was ditched in the East River. All five passengers were killed.
The lack of a requirement for all Part 91 revenue passenger-carrying operators to have safety management systems and inadequate FAA oversight of those systems when voluntarily implemented introduce risks the NTSB determined were unacceptable and avoidable. In the Oct. 2. 2019, crash of a World War II-era Boeing B-17G on a "living history flight experience" flight, the operator's ineffective safety management system and the FAA's inadequate oversight of it, contributed to the probable cause of the accident that killed seven and seriously injured five others.
The NTSB made six new recommendations to the FAA, including developing national safety standards or equivalent regulations for specific revenue passenger-carrying operations, identifying shortcomings in current regulations allowing some operators to exploit loopholes to avoid stricter oversight, and requiring safety management systems for all revenue passenger-carrying operations currently conducted under Part 91.
The NTSB also reiterated three recommendations and changed the classification of two of these previously issued recommendations from "Open‒Acceptable Response" to "Open‒Unacceptable Response."
An abstract of the findings and safety recommendations is available at https://go.usa.gov/xsMSh. The complete final report is expected to be published in the next few weeks.
Contact: NTSB Media Relations
490 L'Enfant Plaza, SW
Washington, DC 20594
Phone Number
(202) 314-6100